Technology 'safe sidewalk' with EMP received the National Young Inventors award
Technology 'safe sidewalk' with EMP received the National Young Inventors award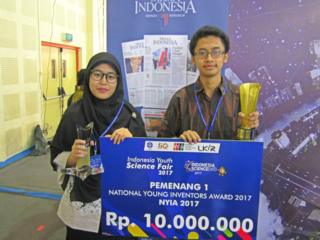 The team of high school students who created the technology of 'safe sidewalk' by utilizing the electromagnetic pulse won the National Young Inventors Award from LIPI.
Electromagnetic pulse aka electromagnetic pulse or EMP is a short burst of electromagnetic radiation.
Phenomena that occur naturally or artificially is generally disturbing, even destructive, electronic equipment.
EMP is best known for its use as a weapon, especially in films and popular culture - this weapon is believed to effectively paralyze the enemy because it is harmless to humans, only electronic devices.
Inspired by the use of it, two high school students from the city of Bandung take advantage of EMP to turn off the recalcitrant motor machines that climb onto the sidewalk, creating a safe sidewalk for pedestrians.
The Safety Sidebar System created by Ayubella Anggraini Leksono, class XI SMAN 3 Bandung, and Hanif Ahmadzakir, XII Class SMAN 23 Bandung, received the highest award on the night of the National Young Inventors Award held by the Indonesian Institute of Sciences at Balai Kartini on Wednesday night (25 / 10).
# TrenSosial- Pedestrians and Jakarta's 'sidewalk invaders'

Indian teens create 'lightest satellite' in the world

World phone data: The laziest Indonesians on foot
Ayu and Hanif use EMP to disrupt the electrical circuit on the capacitor's ignition system (CDI) on the motor.
As a result, ignition on the spark plugs is disrupted, and spark plugs can not spark fire.
"When the motorcycle climbs onto the sidewalk, it instantly stops the engine," Hanif said.
This system is designed to be installed in sloping sidewalks, usually for disability user access.
But recalcitrant bikers like to take advantage of such access to climb onto the sidewalk.
"That's where the starting point of the motorcycle comes in, so there we have EMP and when the motorcycle goes in hours (inhibited) and he will not be able to continue the journey," Ayu explained.
To ensure that the EMP just turns off the motor engine, Ayu and Hanif install magnetic field detectors.
Usually a motor produces a magnetic field above 40 Tesla.
"When a metal detector detects a magnetic field of 40 Tesla passing through the sidewalk, it sends information to the Arduino (circuit), which then sends the information to the EMP Generator to fire the EMP," Ayu added.
Electromagnetic pulses fired are also potentially deadly medical devices, such as pacemakers.
But Hanif and Ayu admit that they have not tested the security of this system in detail.
"We can only measure the motor," said Hanif.
Nevertheless, young people who are familiar even though this school is still aspiring to install their technology on the sidewalks of Bandung streets.
"I want to follow up yes, with our mayor, if not , at least in our area, in Arcamanik," said Ayu.
As the 1st winner, Ayu and Hanif get trophies from LIPI and Creative Economy Agency (Bekraf) and prize money Rp10 million.
2nd winner was Eduardus Ariasena and Andreas Khrisnanto Pramudyo from Loyola Kolese High School in Semaran
g.
These two teenagers created protest arms for the physically auxiliary named LENTERA (Prot, Brake-Based, Spuit and Arduino).
While Fita Amalia from SMAN 2 Balikpapan became the 3rd winner with the work of Pompa Relay without Electrical Energy.
In addition, two students from SMKN 2 Cimahi Sri Wulan Pebriani and Fina Pebrianti received Special Awards or special awards from PT Jasa Marga for creating odor resistant shoe racks.
A total of 40 works were selected to be finalists in the 10th National Young Inventors Award.
All works are the invention of students aged 8-18 years and function to support daily activities or entertaining.